How To Retrieve MYNIC Login Password?
1. Go to the link below.
https://web.domainregistry.my/Mynic-ViewController-context-root/faces/PB/UserLogin.jsp
2. Click on the Forgot
Password
link.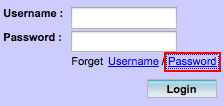 3. Key in your domain
Contact Code
and
Username
, then click on "
Submit
" button
4. You will receive an email with you new password from MYNIC after few minutes.
Also Read
Powered by WHMCompleteSolution