How to set up Advanced Top Menu Bar
Web Content > Menu Manager
To set up an Advanced Top Menu Bar, 
Go to Web Content > Menu Manager
Select Advanced Menu Manager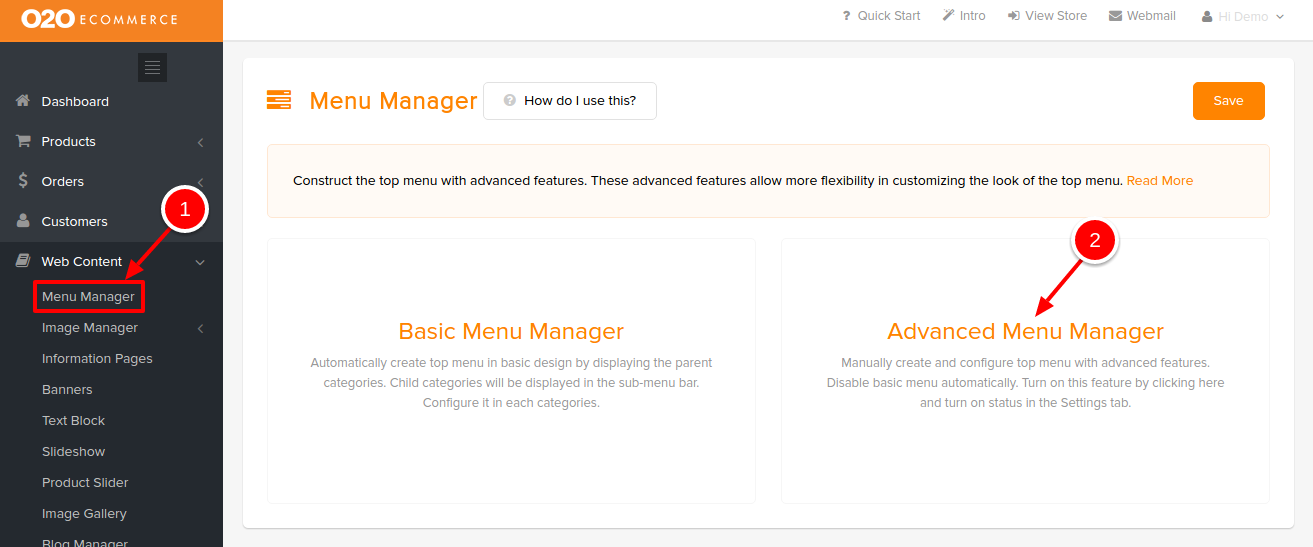 You will be redirected to the following page.
Turn the Status to On
Click Save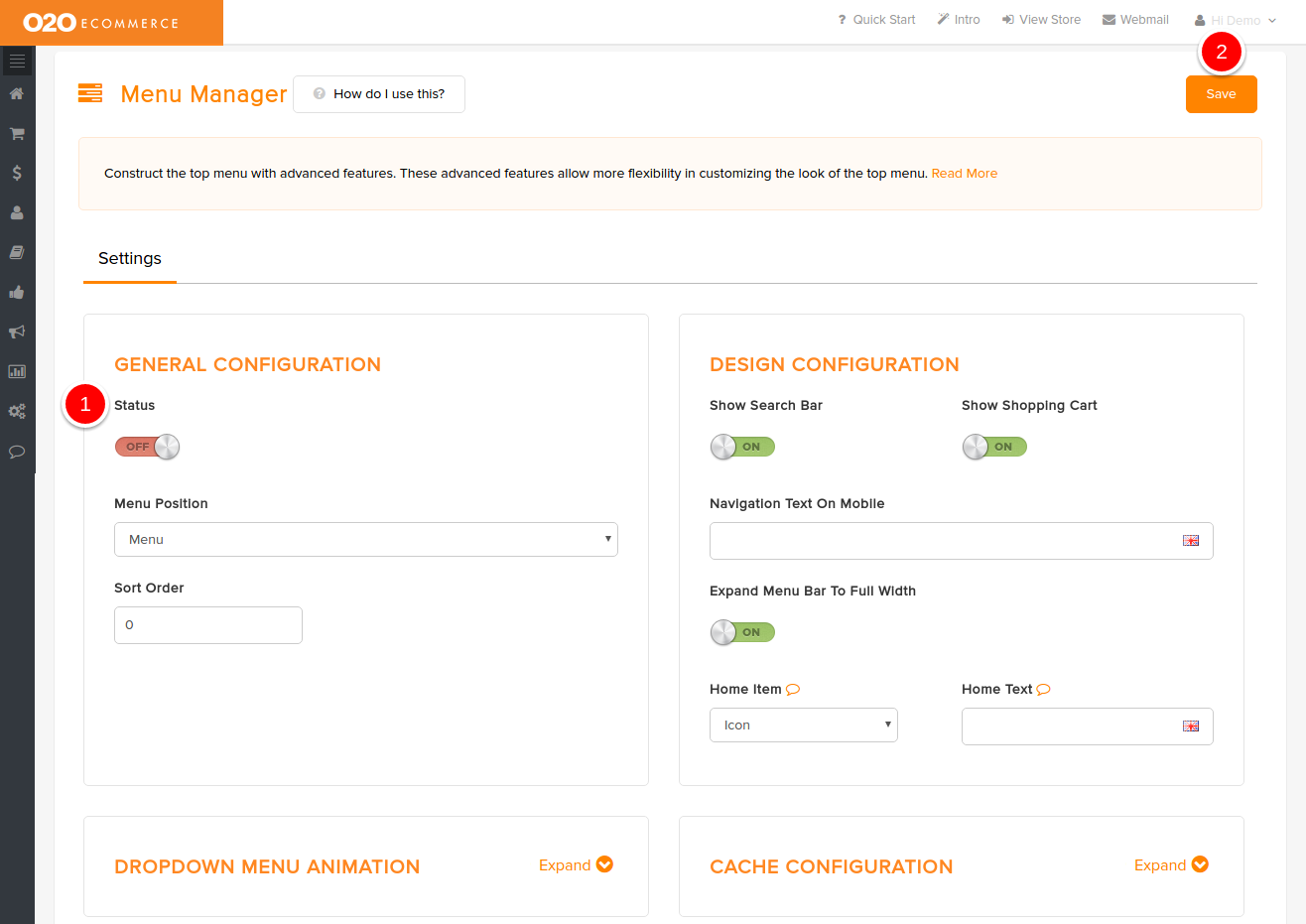 Then, you will be shown the page below. To create a new item in the menu,
Click on Create New Item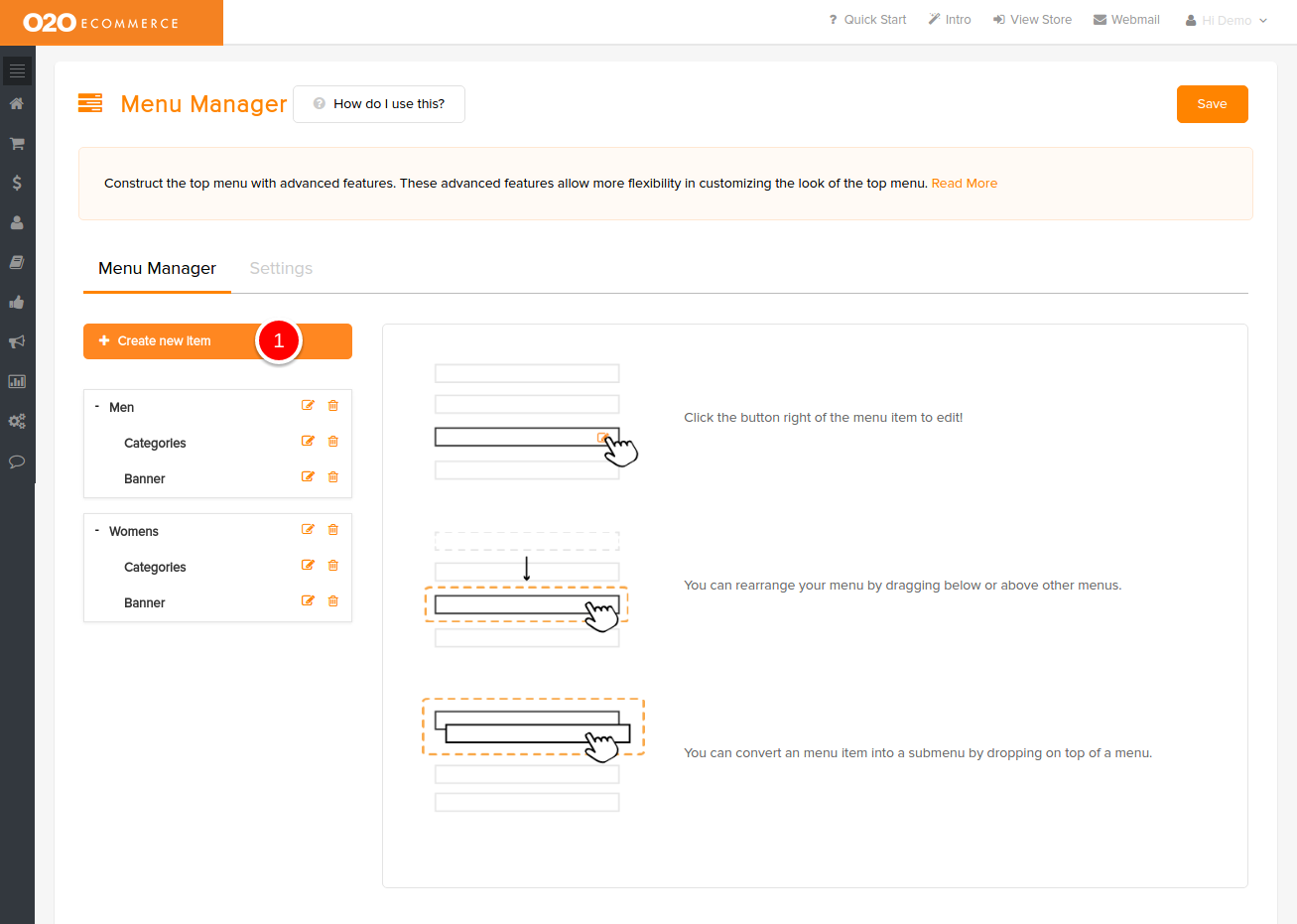 This is Create New Item page.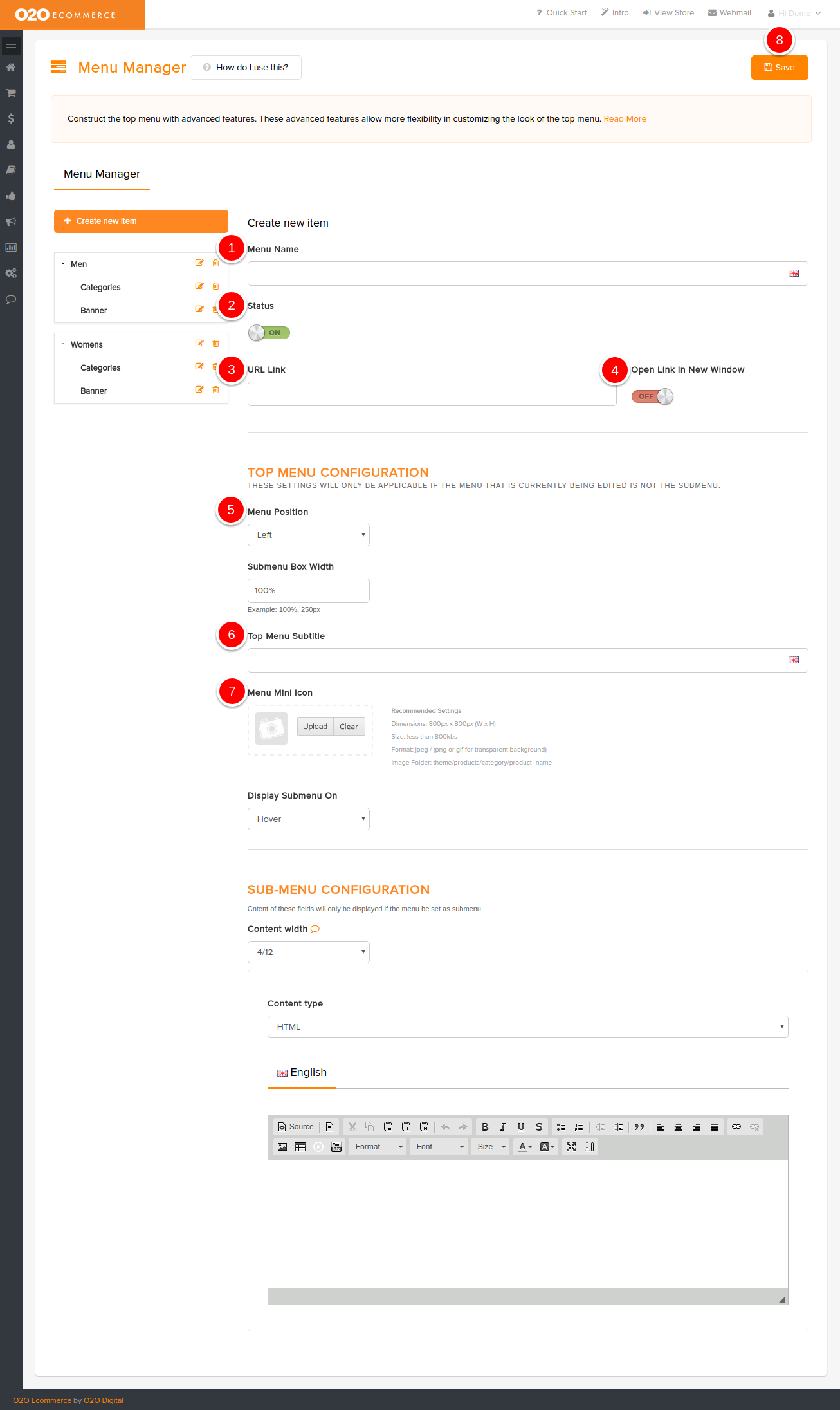 Descriptions : 
Menu Name

Input the display name for this menu item

Status

Turn the Status to On when you are ready to display it on the store

URL Link

Enter the last part of the website link here (e.g. www.storename.com/men, you just key in "men" in the field)

Open Link In New Window

Turn this to Off if you do not wish the link to be opened in a new browser window tab

Menu Position

Determine the position of the menu items on the menu bar (Normally the menu items will be placed on the left side of the menu bar.)

Top Menu Subtitle

Enter a word or phrase to be displayed below the menu item, if applicable

Menu Mini Icon

Browse and select an image file from the Image Manager to be displayed as a small icon beside the menu item

Save
 
Note : Use the above steps to create all the menu items in the menu bar. 

To create a sub-menu, you create it as a normal menu item first as the steps shown above. Then, you drag and drop it into the desired menu item box. It will automatically become a sub-menu. You can rearrange the order of the sub-menus within a menu item by drag and drop it below or above other menus. To turn a sub-menu into a menu item, just drag and drop it out of the menu item box. 

Note : For Microsoft Surface users, you may face difficulty in dragging and dropping the menus with the mouse in your Chrome browser. If you use the touchscreen to do the drag and drop, it will work just fine. You may also opt to use the Mozilla Firefox browser instead to avoid this issue.

When the menu item you have created is going to have its sub-menu, you will need to configure the sub-menu settings. First, click Edit on the said menu item.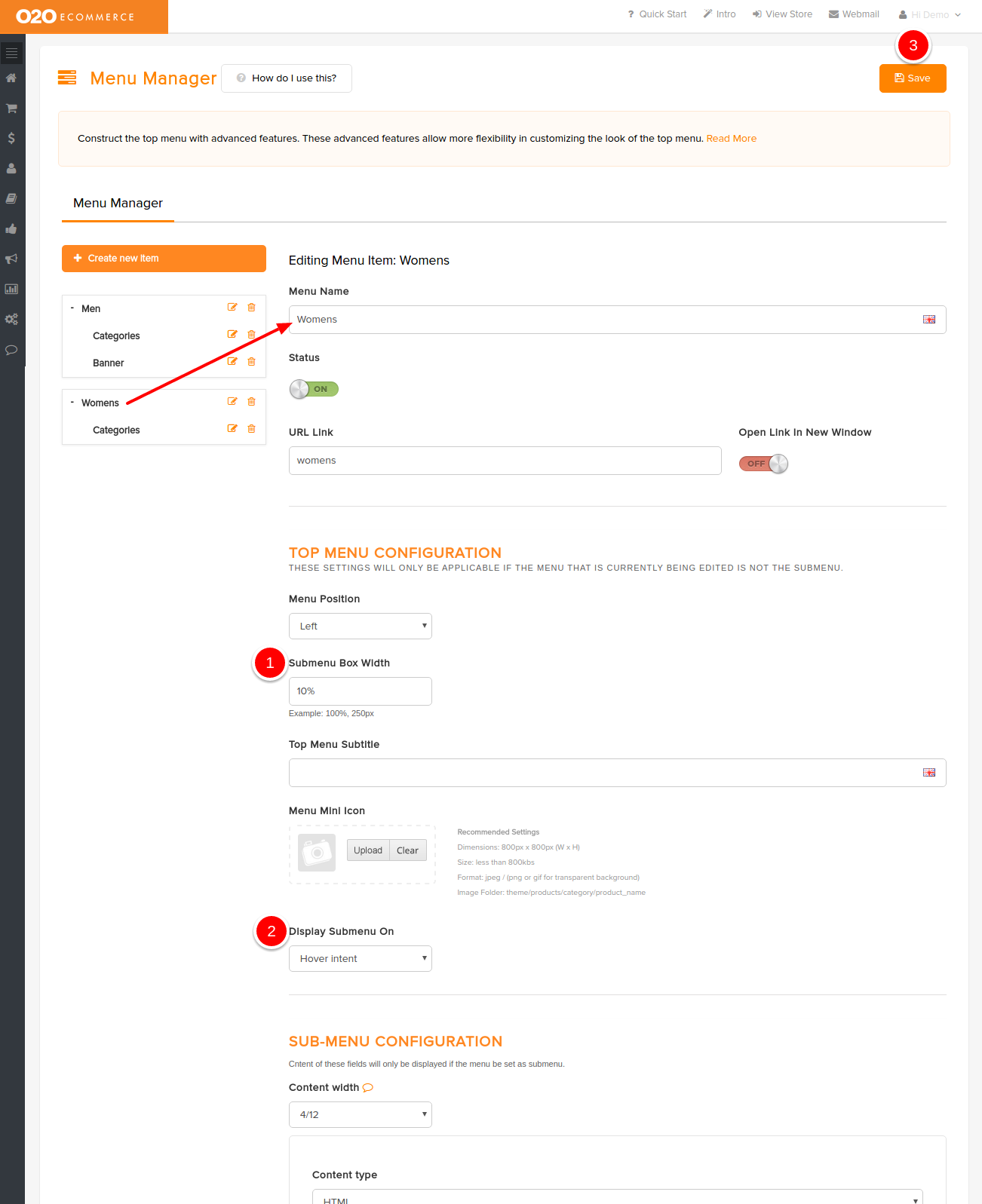 Descriptions :
Submenu Box Width


Define the horizontal size of the sub-menu box

Display Submenu On

Determine how the sub-menu will appear on the store (Hover, Hover Intent or Click)

Hover - the sub-menu will appear when the mouse cursor is on top of the menu item
Hover Intent - 

the sub-menu will appear when the mouse cursor is slowing down around the menu item (the system will try to determine the customer's intention via their mouse cursor movement)

Click - the sub-menu will appear when the menu item is clicked on

Save
 
Then, click Edit on the related sub-menu.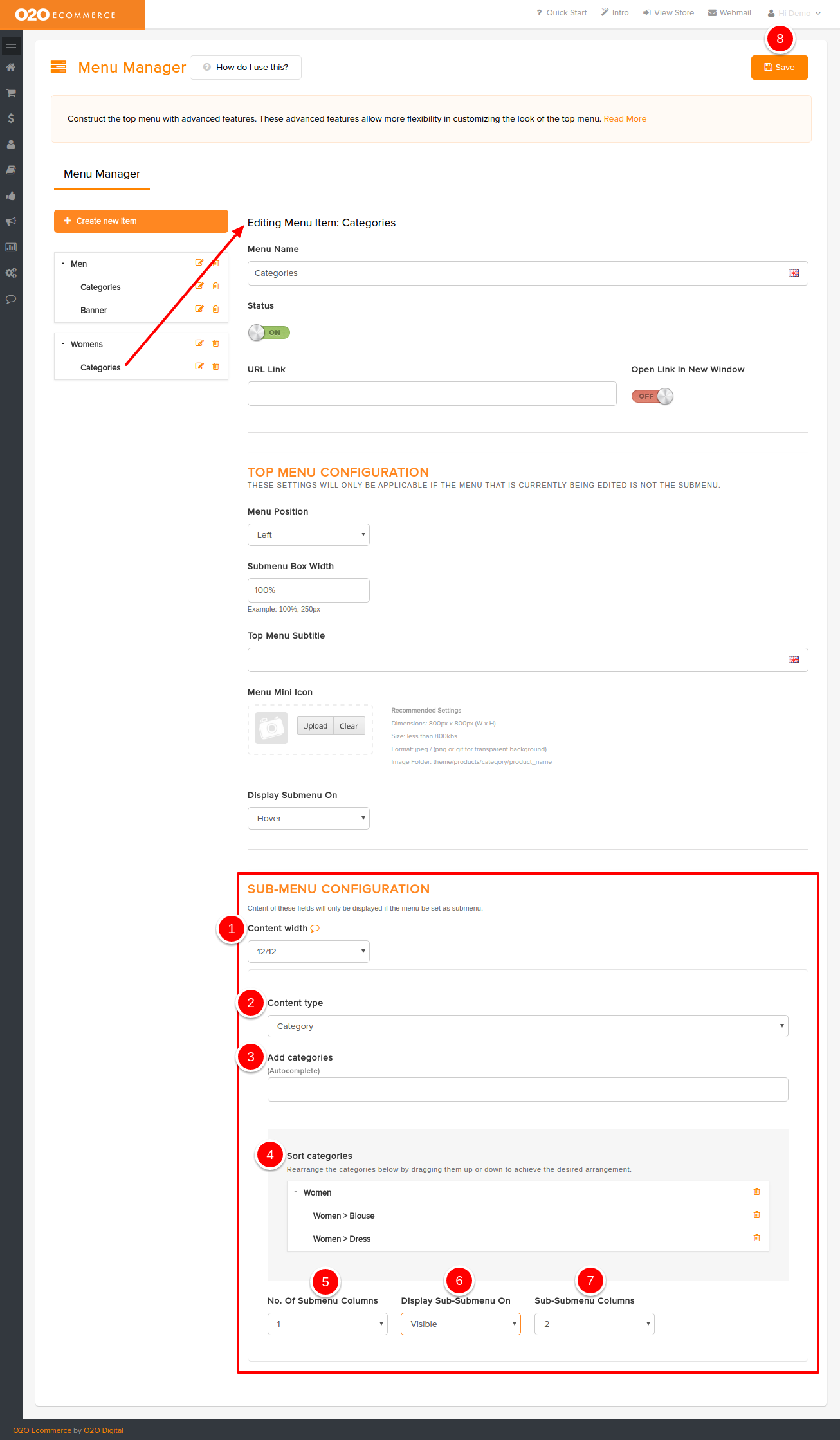 Description :
Content Width

Determine the area size that the content will occupy within the sub-menu box

Content Type

Select the type of sub-menu content (HTML, Product or Category)

For different type of contents, it will have its own respective additional fields.

Add Categories

(This will only appear when Category is chosen.) Browse and select the intended Product Category (You may select more than one Product Category).

Sort Categories

(This will only appear when 

Category

 is chosen.) 

Rearrange the Categories as desired by dragging them up or down

No. Of Submenu Columns

Determine the no. of columns in the sub-menu

Display Sub-Submenu On


Determine how the sub-sub-menu will appear (Hover or Visible)

Sub-Submenu Columns

Determine the no. of columns in the sub-sub-menu (only applicable when Visible is selected)

Save
Also Read
Powered by WHMCompleteSolution